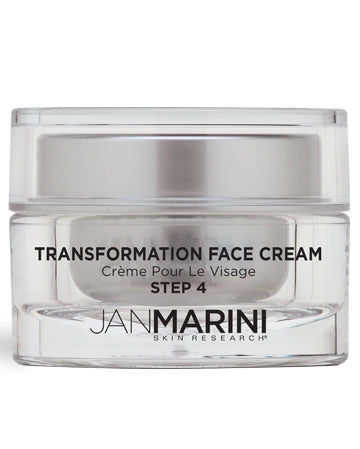 Transformation Face Cream (1 oz.)
Jan Marini Skin Research presents a powerful anti-aging technology that combines two newly developed Pentapeptides with Thymosin beta-4, Transformation Growth Factor beta-1, and Vascular Growth Factor. Transformation Face Cream utilizes ingredients specifically tailored to signal certain activities, including the rebuilding and repair of damaged cells making it excellent for maintaining and augmenting the appearance of youthful, healthy skin. Transformation face cream can also be used to help improve damaged or sensitive skin.
The Transformation Face Cream formula features a superb moisturizing base containing advanced supplemental agents such as Hyaluronic Acid and Nayad™, along with selected protective emollients. The lightly emollient cream is suitable for any skin type and absorbs immediately, leaving a silky and refined texture. Users will experience a more refined, smoother-looking skin texture and a significant decrease in the appearance of fine lines and wrinkles. 
Skin Types: Normal, Dry, Sensitive, Combination, Acne Prone, Mature
How to Use: Apply sparingly in the morning and evening over entire face and neck.
Ingredients: Water (Aqua), Hexyl Laurate, Caprylic/ Capric Triglyceride, Butylene Glycol, Glycerin, Yeast Extract, Polysorbate 60, Stearyl Alcohol, Palmitic Acid, Sorbitan Stearate, Elastin, Sodium Hyaluronate, Myristoyl Pentapeptide-8, Myristoyl Pentapeptide-11, Recombinant VEGF 165, Recombinant TGF-Beta 1, Thymosin Beta 4, Retinyl Palmitate, Tocopherol, Ascorbyl Palmitate, Ascorbic Acid, Citric Acid, Aloe Barbadensis Leaf Juice, Tocopheryl Acetate, Tocopheryl Linoleate, Squalane, Dimethicone, Sodium PCA, C12-20 Acid PEG-8 Ester, Cetyl Alcohol, PEG-8, Nylon 12, Phenoxyethanol, Methylparaben, Butylparaben, Ethylparaben, Propylparaben, Imidazolidinyl Urea, Diazolidinyl Urea, Fragrance (Parfum)
---
We Also Recommend